The electric raft pumps and electric kayak pumps (IK pumps) we carry all of which have proven themselves reliable and a great value. There are many other 12 volt inflators out there, and a few other makers do have some decent pumps, but the economy priced InterDynamics (a.k.a. "Dyna) is a fast inflator that will last many years if you keep the run time to under six minutes, and don't require higher pressure. The Hurricane 12, if you do need something with closer to 2 p.s.i., has proven beyond any question to be the single most reliable car battery-run unit we have found in our 38 years in business. Many other 12 volt pumps cost more and have lifespans of only two or three seasons; some even less. Some cost less but are much more fragile.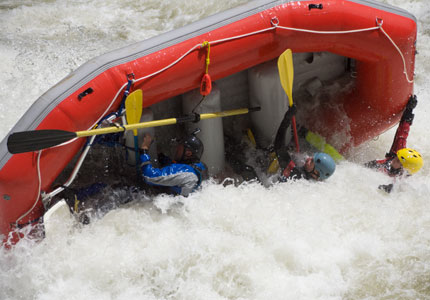 The 120 volt AC inflators listed here are also proven performers. If you need pressure, but not the high volume that a big raft requires, then the Bravo OV4 is a worthy contender. We have been using a couple of them here to inflate lots of inflatable kayaks for almost three years now, and other than a slightly annoying proclivity to tilt backward onto the intake port, it's a terrific little pump. For now we also have a few 120 volt AC Gusto inflators, though how long we will have stock is uncertain. The Gusto has a full 2 p.s.i. output even through a one-way valve but it cannot be used for commercial applications where it needs to run for long periods. It should be limited to 12 – 15 minutes on cold days and 10 minutes on hotter days. If you have questions that are not covered in the descriptions, please contact us.
Including our manual foot pumps and hand pumps too
The raft pumps and inflatable kayak inflators we inventory include Wildwater Aqualung, Bravo / Scoprega, Carlson, Sierra, Mastercraft, K-Pump, EZ-Pump (not shown below, but in stock), Hurricane, Interdynamics (a.k.a. "Dyna" on our site), NRS, and our own Top-Off pumps. It's probably fair to say we carry more inflators than any other stocking retailer, with more than twenty varieties. We also stock two pressure gauges that will cover most boat owner's needs. The foot, cylinder, and barrel pumps, and 12 volt & 110 volt electric inflators below can be used for all types of rafts and inflatables.
Our Boat People Top-Off cylinder kayak pump is aimed at inflatable kayakers who want something portable, but also very reliable compared to mass produced raft & kayak foot pumps, to take with them on longer paddle jaunts.
Bravo 9 and Bravo 5 foot pumps feature secondary top-off chambers. These two kayak pumps can achieve several times the pressure of any single chambered foot pump. For the side tubes on AIRE & a few other brands, and high pressure sportboat air floors, these dual chamber pumps are worth looking at. Note that most hand pumps (except the big 6″ diameter barrel models) can also achieve higher pressures up to 11 p.s.i. The exact maximum depends which model we're talking about.
For Innova boats or any other make where recommended inflation pressures are 3 p.s.i. or less, you want to stick with a "regular" foot pump like the Bravo 8 or 7M.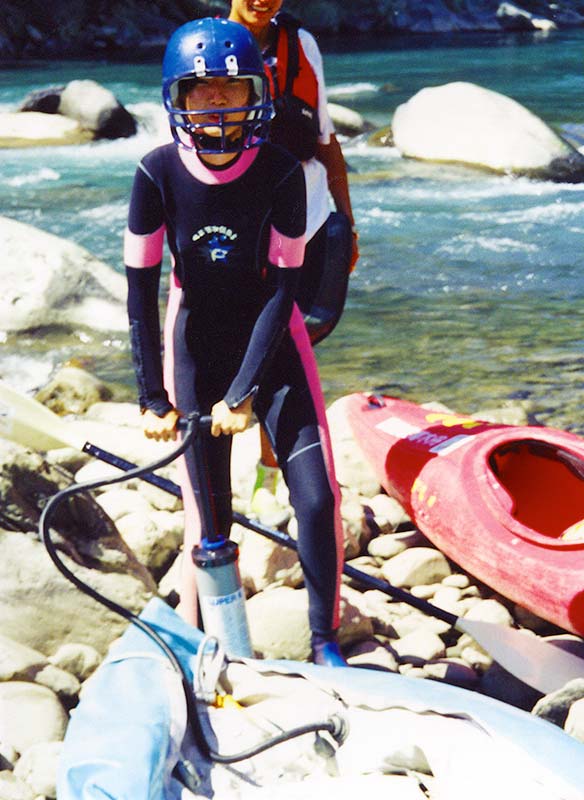 Foot pumps may be difficult to use if you often blow your boat up on rocky, uneven ground. In this situation a cylinder pump will work best.
Occasionally we see a footpump with a small hole in the front center of the bellows. This is often caused by the bellows getting pinched in the internal spring, and it can be prevented by not stomping the bellows plates together hard. If you do get a hole in the bellows of any kayak or raft foot pump though, a drop or two of Aquaseal (see our repair section) will seal it right up. Also, should your pump hose develop a crack near the middle (instead of at the end, where you can just cut off a few inches), a section of standard 3/4″ i.d. garden hose works well as a replacement.
Remember that all cylinder style pumps require lubrication periodically. Once a season may be adequate, but if you boat a lot and use your pump more than 25 or 30 times a year, you may want to grease it twice each season. What's the best grease? Most pump manufacturers agree that white lithium or silicon based products work best. There are also some very pricey teflon (TFE) based greases, but these aren't always better. They tend to have a petroleum jelly-type base, and this stuff tends to get stiff & congealed faster than the white greases.
As always, we welcome any questions you have, so call or email if what you need to know isn't answered here or in the individual descriptions.
40 years in the Whitewater Inflatable Kayak, Raft and Pump Business.
⚠️ Warning: These products are made of PVC and can expose you to chemicals including Di(2-ethylhexyl)phthalate (DEHP) which are known to the State of California to cause cancer and birth defects or other reproductive harm. For more information go to www.P65Warnings.ca.gov