K-Pump K-100 Raft Kayak Hand Top Off Pump, the smallest of our three K-pumps, looks very similiar to the EZ Pump but without the handle harness. It has a more comfortable mushroom shaped plunger grip and is the same outside diameter as the EZ, but about 1/8″ larger on the inside. If you are looking for a mongo-heavy duty pump that you can drop out of an airplane, the EZ Pump is unsurpassed. For most folks the K-Pumps are an excellent option though, since they pump with even less resistance than the EZ Pump.

All K-pumps come with a semi-waterproof stash bag like the EZ Pump. The K-100 and K-200 models have the most effortless action of any manual pump made. This is due in part to them having no check valve, with the reasoning that almost all modern inflatables already have one-way valves for air inflation. Putting another one in the pump body is usually redundant. If you need one equipped with a check valve you will want to go with the EZ Pump, which does have that feature. It is no longer featured on our website, but most of the time we keep one or two in stock. EZ Pumps are the same size as the K-100 and are also made in Oregon with two year guarantees, but weigh more due to thicker side wall materials. They also cost more ($98; again with a water resistant bag). If you want an EZ Pump call us at 925-820-BOAT.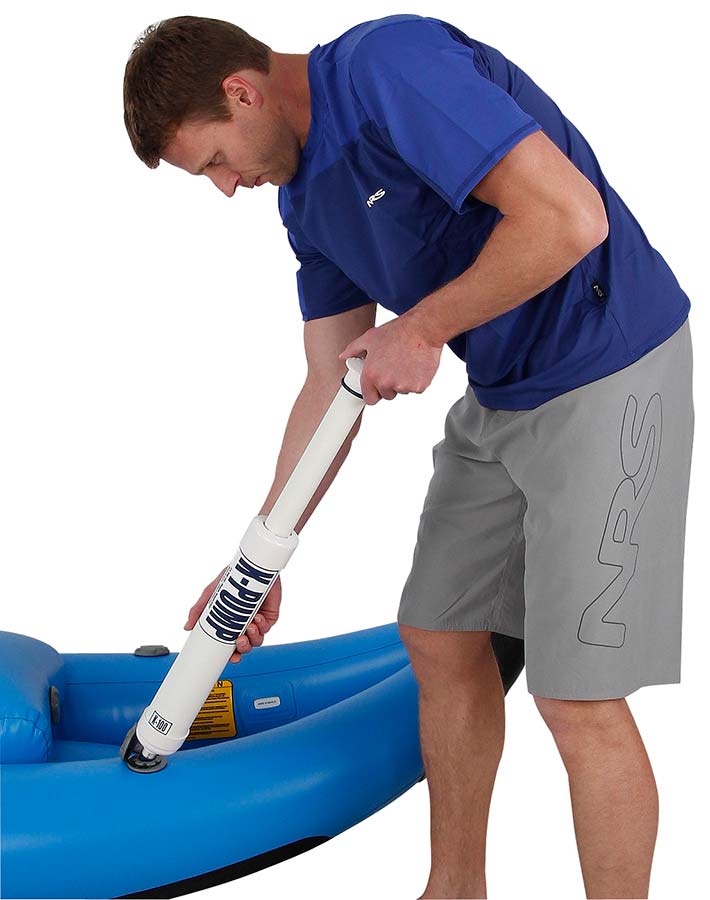 Each K-Pump has a two-year warranty and an extra O-ring hidden inside the front end of the main body. They also come with a soft-tip adaptor and two rigid tip inserts to ensure they will work with almost any boat. ALL barrel style pumps should be re-lubed once per season, or more often if your usage is heavy.
K-Pump K-100 Raft Kayak Hand Top Off Pump Specifications
Length: 22″
Width: 3″
Height: 3″
Weight: 2 lbs
Material: PVC/ABS
Pressure: 0.5 Gal/2 L
Included with K-Pump K-100 Raft Kayak Hand Top Off Pump
Valve Adapters
Rugged Storage Bag"
Two "Bungee Balls" for Securing the Pump in Your Boat
Unlimited 2-Year Warranty
K-Pump K100 & K200 Maintenance Video courtesy of Jim Katella