The Bravo 9 Raft Foot Pump with Top Off Chamber has a six liter main chamber and a 1.5 liter top off chamber. You pull the black plug out of the yellow port and it bypasses the main chamber, pumping air only out of the smaller top-off chamber. This is similar to the Bravo 5 that we also carry. The location of the valve ports on the Bravo 9 are in the way of your foot, so you have to pump with the unit flipped around and your foot on the front edge of the top bellows plate. If you try to pump it with the hinge edge toward your heel, you will very quickly tear off the plastic plug's tether with your foot.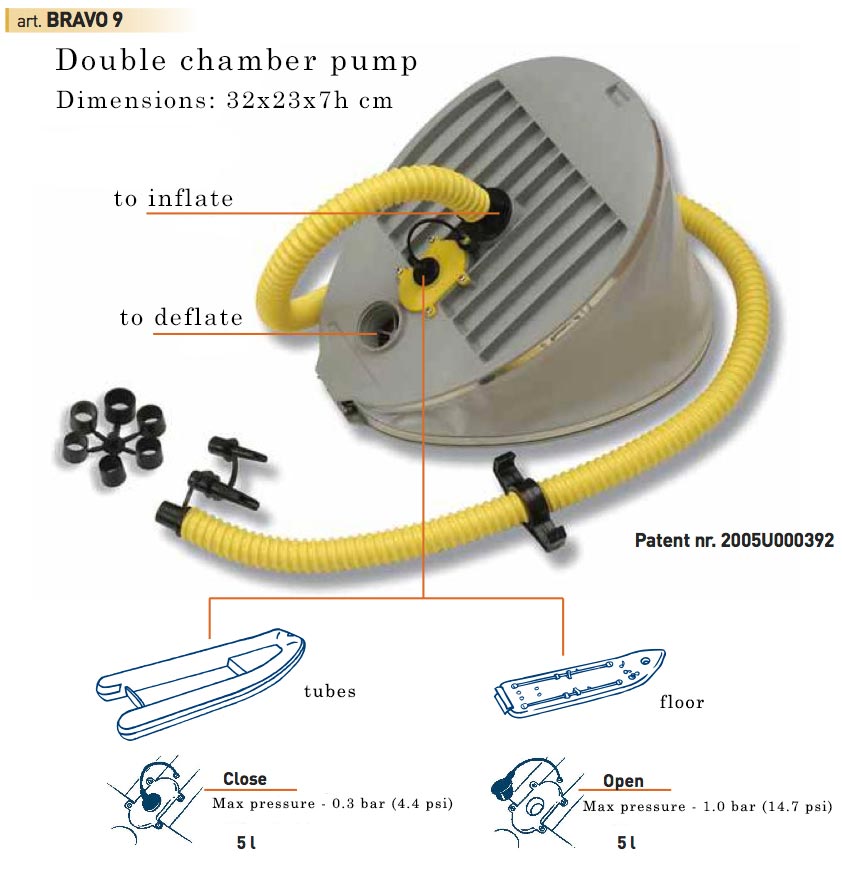 The top-off chamber on the B-9 goes to about nine or maybe ten p.s.i. though the manufacturer claims slightly higher. The Bravo 9 weighs about 3-1/2 pounds, a tad less than the Bravo 5.
Bravo 9 Raft Foot Pump with Top Off Chamber TIP
The plastic clips that hold Bravo foot pumps shut tend to break easily. We do have replacements for $3 but we also have a $25 minimum order, so your best bet when the clip breaks is to use a loop of rope or a 2′ camlock strap to hold the pump shut.