Blow-Pro BP-2020 Electric AC Raft Inflator
ERP loves this two speed high performance Blow-Pro BP-2020 AC Raft Inflator We've used it for a couple years and have been very impressed with how well it quickly inflates large rafts and cat tubes. And the nice thing is, no topping off. The Blow-Pro gets any inflatable up to full pressure – 2.7 to 3 p.s.i. depending on valve type – in a very short time. For smaller chambers and inflatable kayaks, you would probably use the lower speed position on the three-way off/low/high switch, or stick with our smaller Bravo OV-series inflators.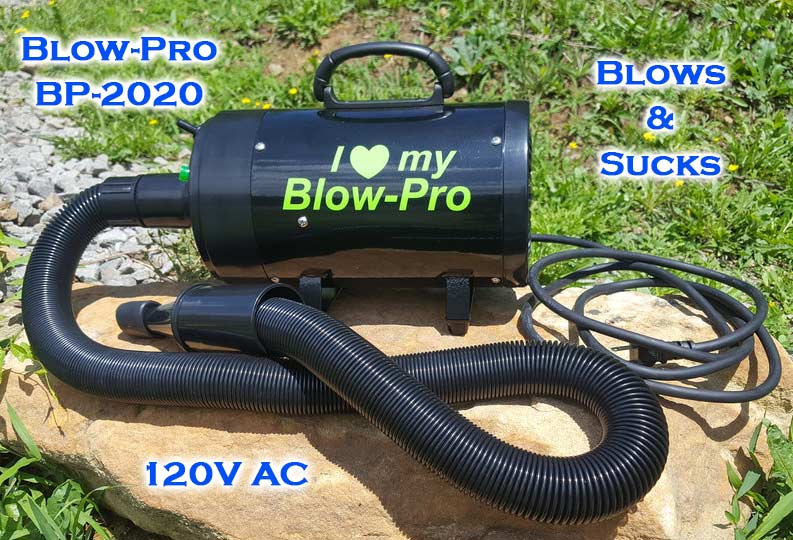 Note that the image above, at least until we get a chance to update it, is not accurate because the current model now has a vacuum end on what would be the right side in the picture. This extra fitting is why the price went up $20. Whether you you use the vacuum feature for deflation is up to you, though we do want to mention that with older rafts or any inflatable that has been used in moderate to humid environments, moisture does build up over time in the interior of your boat. This means you may be pulling water through the BlowPro, so it may still be better to use a wet/dry shopvac if you wish to get your boat to it's smallest deflated size.
New Blow-Pro BP-2020 AC Raft Inflator Hits the Market Beating Out Competition
This unit has become important in our product line because we wanted to find an alternative to the now-$390+ Big Red Mastercraft. Although the Big Red is still American made and highly durable, the price range puts it out of range for many boat owners and even small shops, and the warranty service with Mastercraft is not what it used to be. Big Reds rarely ever have defects, but when we did have one that was DOA out of the box a couple years back, the factory essentially refused to swap it out. Not good. Both it and the BlowPro have one year warranties, but the Blow-Pro importer emphasizes quality and customer service and stands behind the Blow-Pro BP-2020
Ease of Use – Blow-Pro BP-2020
The Blow-Pro BP-2020 utilizes a vacuum cleaner style accordion hose that stretches to about nine feet, with a conical hard rubber nozzle on the end that butts up firmly to most valve surfaces. This hose end has also been improved for 2020 so that it mates up better with pretty much any type of valve. You do not use any twist-in adaptors with this pump, nor should you with any electric really unless we are talking about high pressure SUP inflators.
On the subject of Blow-Pro BP-2020 pump's hose, and this is very important, you need to hold onto it when the pump is turned on. If you don't, it will whip around like an out-of-control fire hose and the nozzle could take an eye out. This is really our lone complaint or warning concerning this pump, other than not to use it in a puddle of water……
On the subject of power draw, the Blow-Pro BP-2020 supposedly pulls 15 amps on the high setting. This tops out many outlet circuits, yet we have had no issues on a 15 amp line even with our forty year old & somewhat substandard breaker panel. If issues should occur with breakers or GFIs popping, then you might want to use it with an outlet on a 20 amp line. But again, to our current knowledge, this has not been a problem.
Solid Metal Constructed body – Blow-Pro BP-2020
The body is metal, not plastic, and the construction is solid throughout. The cord is fairly short, so if you elect to use an extension cord with your BloPro, make sure it is a heavy gauge one intended for larger power tools. Last, because we are asked this frequently: No, you cannot run any of our 120 volt pumps off a small 350 or 500 watt car converter system. The only other thing you could plug a Blow-Pro into would be a full size gas powered generator.