Bravo 6M Raft Hand Pump with Pressure Gauge, the new version of the Bravo 6 now comes with a pressure gauge on the handle, though it is not shown in the photo. Although this model is now the top-of-the-line from Bravo, though it's not quite as beefy as the old Bravo 6HP Deluxe they used to make. That said, it is also not as hard to operate since this newer one has less resistance. The overall quality of these Italian models is far better than the horrible Chinese ones found at the "big box" stores.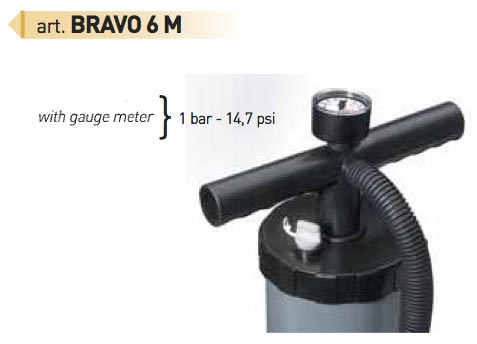 The handles on the Bravo 6M Raft Hand Pump with Pressure Gauge are very thick and strong, unlike the Asian variety that tend to break easily. The plunger shaft and plunger disc are also thicker than the ones from China or Taiwan. Still, ALL hand pumps need grease occasionally, and if you neglect to lube them your pump will fail at some point within the first two years. If you get water inside your hand pump, it will need grease right away as the water will congeal the existing lubricant.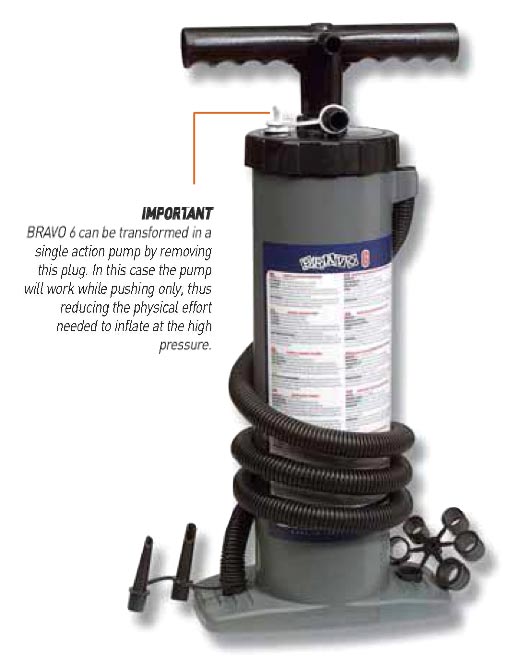 By pulling a little white plug located on top of the pump – and barely visible in our picture – you can turn this double action pump into one that only blows on the down stroke. The pressure gauge is mounted in the top center of the handle, but as we mentioned above it is not in the photo. The gauge is small and rinky-dink looking, but it tends to be fairly accurate despite it's appearance. It's a different configuration of the Nanometer gauge we sell.
If you really don't need the pressure gauge, call us. We usually have some around without them for $12 – $13 less.