Our 12 volts inflator is the AIRE Hurricane 12 Volt Raft Inflator Pump. This unit blows a slightly higher volume of air than the Dyna pump, at a much higher pressure – 1.5 p.s.i. to 1.8 p.s.i. depending on your boat's valves. This means you won't have to do much topping off at all. There is one other pump that does as well pressure-wise, and blows even more air. That would be the LVM, but the LVM has shown to be less than reliable over the many years it's been on the market. It also costs nearly double what the Hurricane goes for.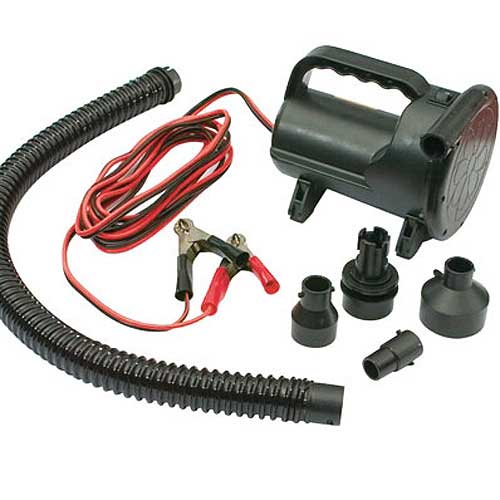 Adapters on AIRE Hurricane 12 Volt Raft Inflator Pump
This pump stands up by itself, and comes with four adapters, including one that seems to work for about 80% of the valves out there. The hose is a bit too short for many applications. Your local hardware store sells various (spa & Tygon) tubing by the foot in the rope & chain section, so you can retrofit the Hurricane with something longer if you wish. A 5′ piece of garden hose also works well. The Hurricane uses battery connectors for under your hood, not a cigarette lighter plug like the little Dyna.
The 12 volt Hurricane raft inflator produces a strong consistent flow of air to quickly inflate boats to 2 psi. It is a hands-free design by virtue of its on/off switch and hose. A variety of valve adapters are also included.
AIRE Hurricane 12 Volt Raft Inflator Pump Features 350-000113
Features
Comes with an adapter to fit a wide variety of valve types.
Stops automatically when overheated
Kink resistant hose
Inflates and deflates
The Alligator clamps allow quick and easy connection to your vehicle's battery.
How to properly inflate a cataraft by AIRE using an electric inflator and top off hand pump. AIRE does NOT use the AIRE Hurricane 12 Volt Raft Inflator Pump for sale on this page. This video shows you inflating techniques using a generic raft inflator and generic cataraft top off barrel pump.