The relatively new Bravo 7M Raft Foot Pump with Pressure Gauge is a small-ish 5.5 liter model with a built in pressure meter that is essentially the same gauge as the Nanometer we sell. It's built with the same materials – stainless bellows clamps, a 1000 denier pvc bellows, reinforced hose, glass reinforced abs bellow plates, and allegedly non-rusting internal hinges & springs – as all the Bravo foot pumps. Our actual experience is that the so called "stainless" steel used for the hinges isn't really all that rust-proof if water gets in, and stays inside one of these pumps.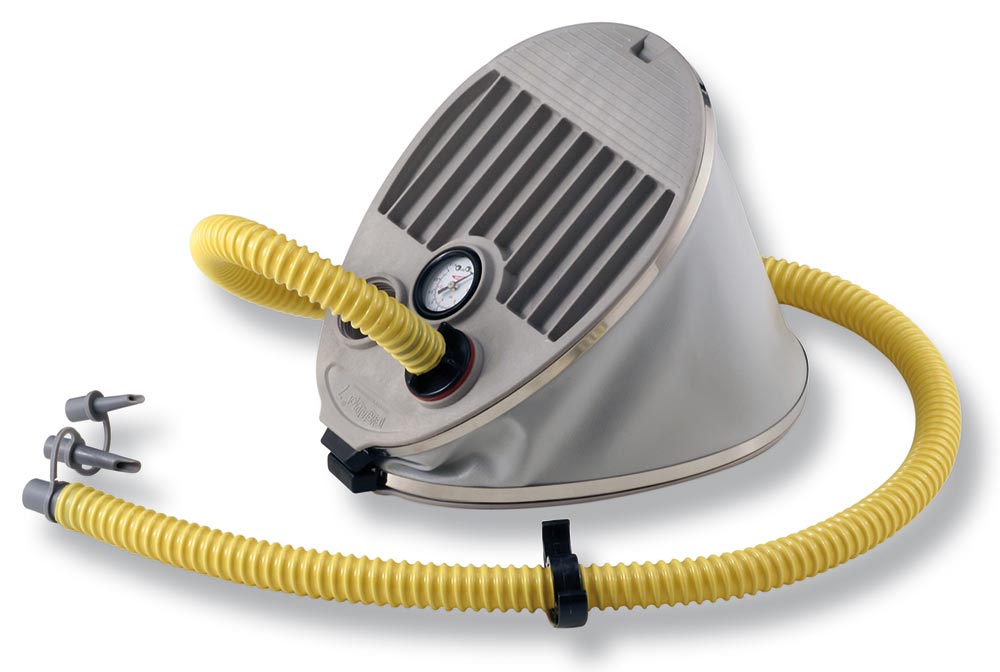 This Bravo 7M Raft Foot Pump with Pressure Gauge is a good pump to take in your inflatable kayak with its' compact size and 2-pound weight. It also fits inside one of Innova's drybag/carry bags. One caveat is that this isn't perhaps the best pump to purchase if it will be your only one, because the hinge inside is not as wide or strong as any other foot bellows we sell. So heavy use will wear this one out faster than the others. Used in conjunction with another larger pump, or an electric inflator, it's a good option because of it's small dimensions.
Like our other Bravo's it has six adapter cones, two tapered nipple fittings, plus the primary fitting for nine possible valve sizes. Understand that the small built-in gauge is somewhat hard to read from a standing position if your eyes aren't in pretty good shape, and if your boat can handle 3 p.s.i., most foot pumps won't go beyond that anyway. The 7M can go to about 3.7 but even so the need for a gauge on bellows pumps is somewhat dubious.