Boat People Top Off Hand Pump for inflatable kayaks and other small craft. TWO year warranty. Please note the photo shows an older prototype, and among other details the current version has a gray reversible schedule 80 tip that is tapered on one side (and this tapered end fits almost 90% of the valves out there) and rounded on the other end. If you find yourself not using the rounded end at all, you can use super glue and make the tip permanent in that position. On the other hand, certain valves will mandate that you do use the rounded tip.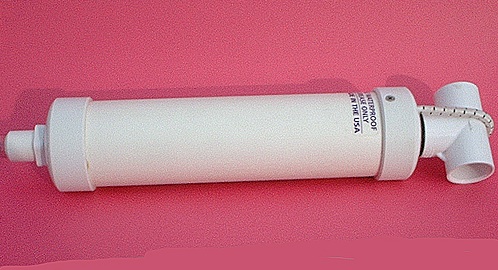 This Boat People Top Off Hand Pump is a short version of our K-100 pump though it is built with thicker, stronger materials. The overall length is 17″ and the cylinder is a bit over a foot. It weighs one pound, thirteen ounces and will fit in most drybags. The inflation speed is about 2/3 of what you will get from the K-100 or EZ-Pump models. The genesis of this product has to do with the fact that we have finally run out of our old military surplus Top-Off model, which we had been selling since 1997. The military unit was very high quality too, but the advantage of our new Boat People Top-Off is that it has a 8.5″ inch stroke compared to the 5″ stroke that the military one had, so it puts out 70% more air. Many inflatable paddlers want something reliable that can easily be stowed, especially on longer trips, and this is it in a nutshell. Since we are out of the old military pumps, it was time for a new and improved product.
We designed the Boat People Top Off Hand Pump mainly for inflatable kayakers or owners of other tiny boats, who want something that can either re-inflate one damaged air chamber, or firm up any moderate air loss throughout. This is not intended to blow an entire boat up from scratch, even a solo inflatable, and it will do so only if you are very patient and have a lot of endurance in your arms.
Our Top-Off carries a two-year warranty and is made in California. A bungie loop keeps the handle down when you aren't using the pump. It has a comfortable T-grip (the part you grip is smaller around than the handle on the one in the picture above) and a thoroughly researched tip that will accommodate pretty much any valve.
We recommend that you carry it in a dry bag to keep the pump's interior dry and eliminate the chance of blowing water inside your inflatable. Like any cylinder pump, getting water inside will also instantly congeal the grease. These should be re-lubricated with white lithium or silicon grease, or teflon lube (pricey!) every season, or every 18 – 20 river trips if you use your craft a lot. To grease it, you remove a single philips screw on the top cap, and pull backward on the plunger. The cap pops off, allowing you to lube the O-ring and cylinder interior at least part way down, which is sufficient.
We made these Boat People Top Off Hand Pump without a check valve at the bottom because every inflatable made now (except Demaree) uses some sort of one-way inflation valve. Having a second one in the pump is redundant and adds resistance. And as they say, resistance is futile. If you do happen to own an older Riken, Hyside, Demaree Dipper, or Momentum kayak that has military valves, you will want to go with an EZ Pump, which does have the internal check valve. The "EZ" is no longer featured on our website, but most of the time we keep one or two in stock. EZ Pumps are 6″ longer than our Boat People unit, but are made of similarly heavy duty tubing and have two year guarantees. They cost a fair bit more ($98) but do come with their own water resistant bag. If you want an EZ Pump call us at 925-820-BOAT.
The Boat People Top-Off Pump runs $57. If you order it with a boat, it's $51.