The K200 is just like a stretched out K-100 or EZ Pump. All three K-pumps we carry have a mushroom shaped plunger grip that is very comfy to grip. The K-200 is an excellent option for small to mid-size rafts and high volume oddities like AIRE's Traveler inflatable canoe, or many similar models from Grabner.

The model K-200 and K-100 have the most effortless action of any manual pumps made. This is due in part to them having no check valve, with the reasoning that almost all modern inflatables already have one-way valves for air inflation. If you need one equipped with a check valve, it's no problem, but you will need to phone us so we can order one for you. The K200 is just a bit over 2 pounds, measures 30″, and it comes with a semi-waterproof stash bag like the EZ Pump and the other two K-pump models.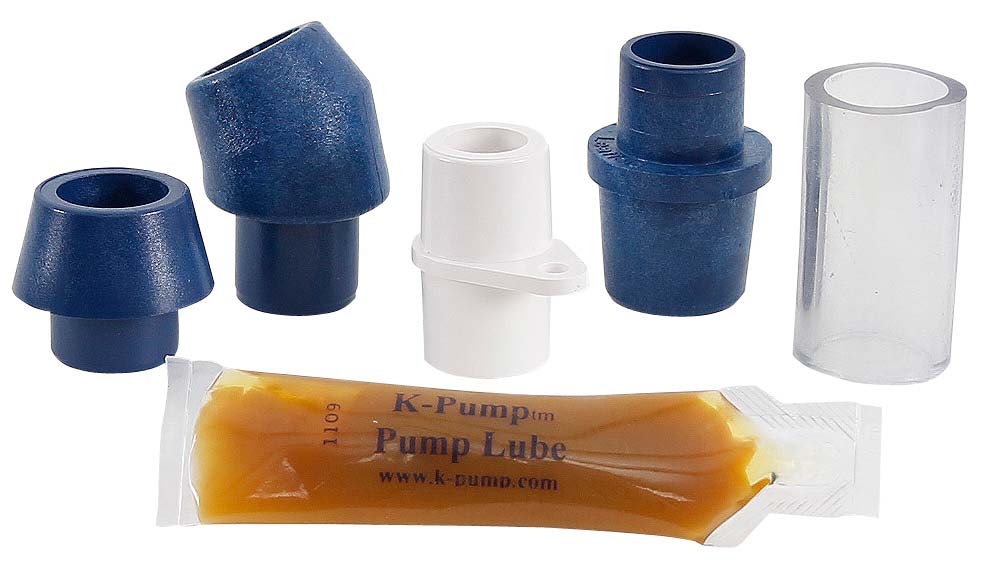 Each K-Pump has a two-year warranty and an extra O-ring hidden inside the front end of the main body. They also come with several tip adaptors. Any barrel style pump should be re-lubed once per season, or more often if your usage is heavy.

K-Pump K100 & K200 Maintenance Video courtesy of Jim Katella
K-Pump Maintenance
All K-Pump models are designed to be maintained in the field. Malfunctions are rare but when they occur they are easily addressed because all models can be taken apart. Since there is only ONE moving part, the remedy to most issues is usually easy. After removing the retaining screw (the only metal part in the entire pump), remove the pump body cap. Just rinse the pump out in the water and in most cases you're ready to go.
O-Rings:
If the O-ring in the plunger appears not to be sealing properly, check to see if there is any debris (even the smallest piece) on the ring and remove it. If the O-ring has failed completely, simply replace with the spare O-ring that is in the bottom of the pump body tube and you are set to go.
NOTE: If you are experiencing some "blowback" (the pump doesn't appear to be sealing completely) simply remove the O-ring from the plunger and stretch it. Replace on plunger and it should work properly.
Nozzle:
If the tip on the nozzle becomes so damaged that you cannot get a proper seal, simply remove the nozzle by rocking it back and forth until it comes out. The reverse end will be new and you simply reinsert the nozzle and you are good to go.
Lubrication:
About twice a year, under normal use apply a bead of K-Pump Lube around the top of the cylinder internally and reinsert the plunger. K-Pump strongly urges that you use only K-Pump Lube as we've found it to be superior to all other types of lubrication.
Replacement Parts:
You can order K-Pumps, K-Pump Lube, spare o-rings, bungee balls, nozzles and new stow bags by contacting Electric Raft Pumps